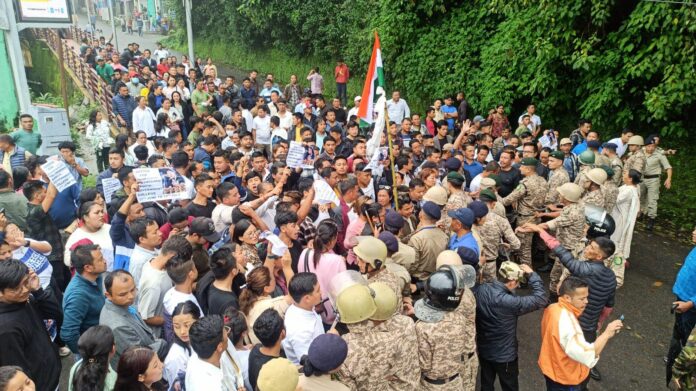 People gather to protest outside South Sikkim's Namchi regarding the death of a student leader late Padam Gurung who was found dead by a local nearby drain in Namchi's Kazitar area on June 28. 
A huge crowd was seen gathered in Sikkim's Namchi on Friday to protest the death of a Student leader who was found in a drainage on the 28th of June morning at 4:30 AM near the Kazitar area of Namchi. Till now no one has been arrested in connection with the case which caused massive protests demanding Justice for the late student's leader. People were seen holding a demonstration outside the police station and demanding justice for the Late Padam Gurung.
On July 14 afternoon, protesters led by the All Sikkim Gurung and Tamu Association staged a strong protest in Namchi demanding Justice for Late Padam Gurung, they also blocked the highway for several hours which was later controlled by local Police.
Protestors were seen carrying a poster and shouting "Justice for Padam Gurung". Padam Gurung's family members and some representatives from the Gurung and Tamu community joined the protest joined by the large local community.
Anger over slow investigation case by police, In one video statement they said, they have declared a cash prize of Rs 1 lakh to anyone who's willing to provide evidence and information to them. Gurung Member also questioned the police's investigation into the case, while Namchi Police have appealed to anyone with information and evidence about the late Gurung's case to come forward and tell them.
Last day, Sikkim Chief Minister PS Golay visited Padam Gurung's family and said his government to conduct an independent judicial inquiry. Addressing a Family member in Perbing, south Sikkim, he said: " The panel will submit a report to the state government within one month."
His family members including his elder brother Prem Kumar Gurung who was seen in protest have alleged that his brother was murdered.
On 28th June 2023, a body was found in Kazitar Drainage, which also led to suspicion among the public that he was murdered. The police have so far maintained that the case appears to be swept by the overflowing drainage due to heavy rainfall on June 27 night. The victim's family has alleged that he was murdered. "It was not at all an accident. What sort of accident is this when this small-sized drainage can sweep away my brother? We want a complete investigation," his Brother Prem Kumar Gurung, said while staging on Protest in Namchi.