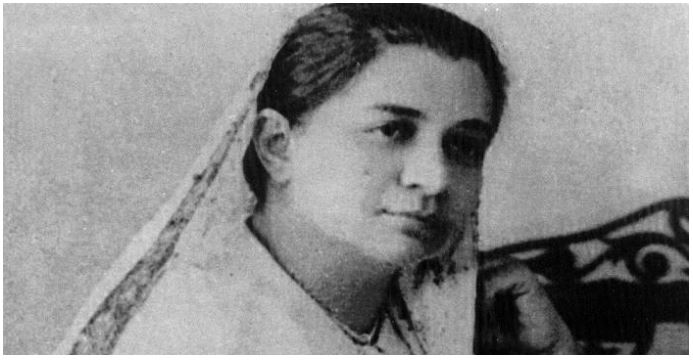 "Behold, the flag of independence India was born! It has been made sacred by the blood of Young Indians who sacrificed their lives in its honour. In the name of flag, I appeal to lovers of freedom all over the world to support this struggle", said Bhakaji Cama in the International Socialist Conference being held in Stuttgart, Germany
She the first person to hoist the Indian flag on the foreign soil on August 22, 1907, at the conference, attended by one thousand representatives from all over the world. Cama unfurled the first version of the Indian flag – a tricolour of green, saffron and red stripes. She then added,
"This is the Flag of independent India, I appeal to all the Gentleman to stand and salute the flag"
Biography:
Born on September 29, 1861 into an affluent Parsi family, Bhakaji Cama also called by Madame Cama, pursued her early education in Bombay. Swayed by the Indian nationalist movement growing at that time, she drew towards political issues from an early age. She married to Rustomji Cama, a wealthy, Pro- British lawyer in 1885. Due to differences in opinion, their marital problems led Bhikaji Cama to spend most of her time and energy on philanthropic activities.
Leaving India & stay in London:
In 1896, when Plague broke out in the Bombay presidency. Bhikaji volunteered to help Plague victims. There, she too caught the deadly diseases which left her in poor health. She had to leave India for London for medical treatment and rest.
During her stay in London, She met Dadabhai Naroji and started working with him for Indian National Congress. She also came in contact with other nationalists and addressed several meetings in London's Hyde Park. This same year, she co-founded the Paris Indian Society in Paris. She also wrote, published and distributed revolutionary literature including "Bande Mataram". Later distributed in India during the First World War.
After her conference in Stuttgart in 1907, she began to travel in the United States. Awaring Americans about Indians' struggle for independence. She also fought for the rights of women and their role in building a nation.
During the First World War in 1914, Bhikaji visited the army camps at Marseilles and asked the Indians Force,
"Are you going to fight for the people, who have chained your motherland?"
After French and England were allies in the war, the French confined her for her anti-British activities. However, she continued to maintain her active contacts with Indians Irish and Egyptian revolutionaries as well as with French Socialists and Russian leadership.
Bhikaji Cama was prohibited to come to India until 1935 when she became gravely ill and died the following year in Mumbai. The nation had lost a fearless leader.
On 26 January 1962, India's 11th Republic Day, the Indian Posts and Telegraphs apartment issued a commemorative stamp in her honour. A metro station in New Delhi was also named after her in 2018
Her legacy remind us of the initial stages of the freedom struggle and the rebellious woman who fought for it over the years. Bhikaji Cama only dreams were,
"India must be free, India must be a republic, India must be united"
Also, Read- E-RUPI Launched in India: Is it Indian Crypto?