"Well it just looks like a simple picture with a person walking but it's so much more than that…but  a group of passionate and  hardworking young people…who traveled on foot in difficult terrain and bad weather for hours on end to deliver those pads to the people there. Pentong is one of the last village at the absolute end of Dzongu and I must say the roads aren't favorable for travel with numerous landslides and countless obstacles blocking  the  path and not to mention leeches. Watching such people doing their part for the people in need was really inspiring. Not many people know what such inspiring young people are doing and I wanted to do a small part by Sharing this story with people…"
Sikkim Lepcha Youth Association:
Sikkim Lepcha Youth Association or SLYA, Dzongu affiliated to SLYA (parent body) came into existence 7th May 2017. After its formation body has immensely contributed to society in many ways.
With a team filled with energetic, enthusiastic, robust and active youths they come up with many creative and productive ideas.
The organisation have received rousing applause from both the side, Government and civil societies. Their noted programs such as 'Guiding Junior' program in the winter breaks in collaboration with 'Sikkim Youth Federation' are praise worthy. Further, 'career guidance program for secondary and higher secondary students & paintings and essay competition for junior and primary students' are also commendable.
'Sanitary Pad Drive':
Collaboration with Nehru Yuva Kendra, the organisation has been able to get to its roots organising numerous student-related events. One of the noted events of the organisation among them is the 'Sanitary Pad Drive' program.
With the kind of hardwork and effort they make society a better place. The Government of Sikkim has recognised their efforts. They bestowed upon them the distinguished award of "District Level Outstanding Youth Club Award 2018-19". The felicitation was on the auspicious occasion of Republic Day, 26th Jan 2020.
Miss Marmit Lepcha says:
The Sanitary Pad drive has been one of the major events of the organisation. Miss Marmit Lepcha, Core member and Central Executive of SLYA, Dzongu branch, comments
"It was during the first phase of lockdown, when the young girls of Sangdong, Dzongu gathered to clean up school and was sharing their own challenges and experiences of lockdown as it was first of its kind been faced by everyone. So, everything was new. That's when whole idea of sanitary pad distribution was born. As, we understand a village only has few shops and even amongst them, there are only few shops that actually keep sanitary pad and those days even Mangan, the nearest main market for Dzongu was running short with many things.
And, that's when, the girl just talked to some of her friends who were active socially as it was something we had never thought about. There are Govt and some NGOs who would cater to ration, medicine relief or any other help but sanitary pad, haven't seen or have thought about it.
Sangdong is about 40 minutes drive from Mangan and if the girls from that area had sanitary pad shortage then what about those women and girls who were living in an area that has been totally cut out from the main road connectivity that too for the past few years. That's when, we thought we got to make it happen even if it were few numbers of girls we could help (it's said that its easier for people to understand if you have gone through that situation and every woman can relate to this), and that's when we started pooling money ourselves to purchase sanitary pad and our word got spread through word of mouth from our friends to many friends."
The initiative has come a long way-
The Association's initiative of Sanitary Pad Drive has come a long way with everyone pulling in. Beginning with their own people to strangers to big and recognised organisations.
"Well, when we started the Sanitary pad drive a year back in August 2020, it was just us, our friends, our friend's friends, our siblings' friends, their friends and their siblings, Uncle and Aunties and their friends. Our circle started growing even amongst strangers. So, there was no collaboration. It was individual good wishes and contribution, that we could provide sanitary pad for the whole of Dzongu. However, this year (2021) we were fortunate enough to have been sponsored by two organizations. Women's Indian Chamber of Commerce and Industry (WICCI)-Sikkim, who provided us with 12 cartoons of Sanitary pad (Sofy) and the Red Sunshine provided us with Cloth Pad." Thankful Marmit asserts.
Thanking 'The Red Sunshine' and 'WICCI-SIKKIM'
The organisation puts down on its official Facebook page "Words cannot express our appreciation of how much you, 'The Red Sunshine' and 'WICCI-SIKKIM', have influenced so many lives in such a positive way. Your generous thoughtfulness has truly inspired many young people like us to reach the last village of Dzongu, Sakyoung-Pentong to distribute cloth pads send to us by The Red Sunshine and sanitary Pad by WICCI-SIKKIM…………………………………………………………….. "
Miss Mayal Lepcha adds:
"Our main focus was villages far away from the road connectivity. Sakyoung Pentong, the last village of Dzongu was first on our list. Next was Bring Katam, Kushel Mangzing, Breingbong, Gnon Sangdong, Ramom, Bay. The whole of Tingvong GPU, Laven, Lingdem, Ruklu Kayem, Leek and coming down to Lum Gor Sangtok GPU, there too Sagyoung is cut out from both ends be it from Sangtok side or Gor side.
We visited Ramom too however due to some communication gab we missed out Ship Gyer, which was on the list. Well, this we all covered within mid-August till the end of September 2020. And we did visit Lingthem and Gor School in the month of November. And this year, we just covered some selective places from the previous year and added Kalaw, Nampatam, Noom Panang, Tong Rong Rong, Katong, Upper Mangshila, Labi and Sarong" says Miss Lepcha, when being asked about places they have reached and covered.
Learning and understanding has been integral part of life, the organisation does much more than just delivering them. Their drive isn't just limited to distribution and delivering those hoped stuffs but they even educate the gatherings too.
"Initially, when we started, we just distributed them however, when we reached Tingvong, we met one of the AWW Miss Mayal Lepcha, who advised and taught us through her whole visit of Tingvong GPU as to how we can educate them about the use and disposal of the sanitary pad at home, in school or while travelling. So, after that, there was no looking back." further comments miss Lepcha.
Alternative Sanitary cloth pad
With team filled with creative minds, productive and flexible individuals; does not only deliver traditional disposal pads but they have leapt ahead a step further with a sustainable approach. Create awareness about conserving the environment is a little possible. Cloth pads is considered to be highly sustainable, can be reused for almost until the five years or so.
"We must understand that we always come back to where we started, right? Be it fashion, tradition or anything. So that's how cloth sanitary pad is also on the trend these days and to use cloth pads, what women used historically and so are easy to adopt, we understand, it might seem a little tricky for those including myself, who have used disposable Sanitary Pads;
Characteristics of a cloth pad:
Cloth pad is sustainable and is a one-time expenditure only as one can actually use it for 5 years and so can save money, the best that could help rural women during unfortunate period like pandemic or when one is cut off from road connectivity during natural disaster which is very frequent news in Dzongu.
For environment lover, it's a give back to the environment for not adding plastic waste to bulge waste in the landfill.
Since dumping the used pads and throwing in the Community Dustbin's takes up to 100 years to decompose in the Landfill. It's impossible to sort and get it recycled/degraded.
To use Sanitary Cloth means you are choosing healthy living.
We all have been reusing and changing innerwear so the same goes with the cloth pads, when washed well, dried in direct sunlight and kept properly in a clean place, they are faultlessly hygienic".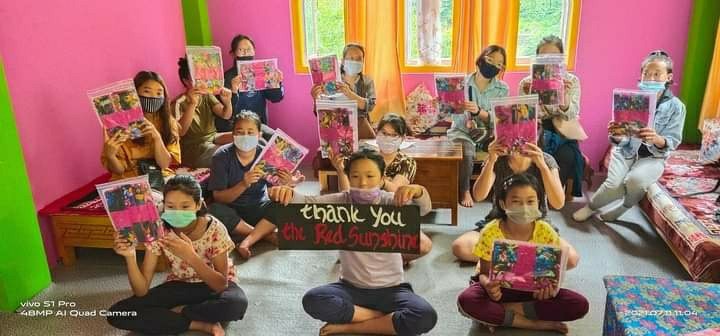 SLYA, Dzongu hopes to continue this humanitarian journey even in the years to come. Reassures that organisation will be there always and tells that anyone can approach the team "PAD SQUAD" is needed in your area.
For more, please visit;
https://instagram.com/finding_myself_remains_unknown?utm_medium=copy_link
https://youtu.be/-1Un5NzOoTM
https://youtu.be/tYdh-_ff61g
(Palden Lepcha is a student of NBBGC, Tadong. He writes on environment, soci-cultural related topics)
He can be contacted at: www.instagram.com/palden.official