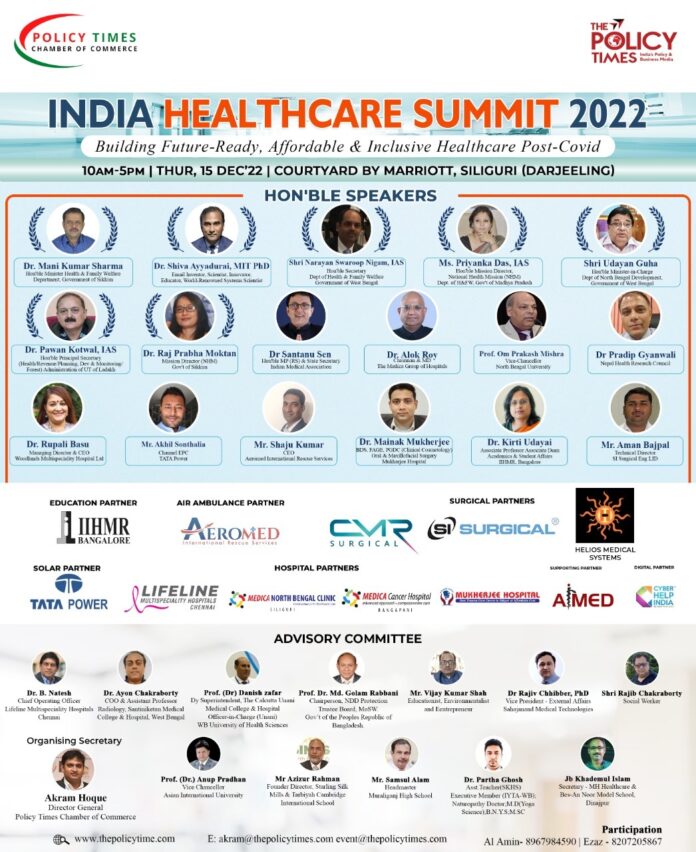 Organised by Policy Times Chamber of Commerce, IHS2022 will bring policymakers, healthcare leaders, entrepreneurs, and will promote North Bengal (Siliguri) to be a Healthcare hub of India.
12 December 2022 Siliguri: To make West Bengal (North Bengal) a medical value hub, The Policy Times is organizing " Healthcare Summit & Expo 2022″ themed Bulding Future-Ready, Affordable and Inclusive Healthcare Post-Covid in Siliguri on Thursday 15 December 2022.
Future-Ready, Affordable and Inclusive Healthcare is one of the basic human rights while this remains one of the common challenges of all countries. Healthcare is also one of the major job creators, forex earners and contributors to GDP. The Indian healthcare industry is expected to reach US$ 372 billion by 2022, growing at a CAGR of 22% since 2016, employing 4.7 million people directly, driven by rising income, better health awareness, lifestyle diseases and increasing access to insurance. Moreover, India can generate a staggering $774 billion in revenue and create 12 million jobs by 2030 with an investment of $217 billion in healthcare and allied sectors. India's healthcare offers a combination of both modern and traditional medicine that sets the country apart from others.
India is becoming global hub in healthcare and allied sectors. The hospital industry itself is expected to touch USD 132 billion by 2023, accounting for 80% of the total healthcare market. The E-health market size is estimated to reach USD 10.6 billion by 2025. Due to the relatively low cost of medical care in India, medical tourism is experiencing a growth of 22-25%. It contributes more than $2 billion to India's healthcare market. Demand for healthcare and medical devices has increased from the growth of medical tourism. Aim to promote new drug discovery in AYUSH and promote Yoga, the government should spend more on research and development in the sector to facilitate high end research equipment. India's vision is to make India one of the top 5 Manufacturing Hubs in the world by 2047. To achieve that India needs to strengthen indigenous manufacturing of medical devices and equipment by making Performance Linked Incentive (PLI) type Schemes more wide to attract greater investments from global and domestic players.
The India Healthcare Summit 2022 is supported by many orgaisations. IIHMR works towards accentuating health through better healthcare related post graduate programmes. AEROMED International Rescue Services Pvt Ltd is an accredited provider of domestic and international air ambulance services. They provide the low-cost air ambulance service with zero compromise medical care in the air in India and oversees. SI Surgicals, over the past three decades has been serving to the health care sector with innovative medical equipment and furniture to meet the demands of the modern era. CMR Surgical is a medical device company that produces a robotic surgery system called Versius. Kolkata based Helios Medical Systems which provides medical devices, surgical disposables, diagnostic kits, medicines, surgical hand instruments and implants, pathology laboratory items, etc. Tata Power with Solar Logix as Channel Partner promoting solar energy. Chennai based Lifeline hospital, MedicalCancer Hospital & North bengal Clinic, Dr. Mukherjee Hospital and trauma care centre is a well known healthcare institution in Siliguri specialising in Oral and Maxillofacial Surgery. Terai Nursing Institute is one of the best nursing institutes of North Bengal in offering affordable nursing education.
IHS2022 promises to be a great opportunity for entrepreneurs to expand their business and share their ideas to a multitude. The event forms a platform for health care players to promote their brands on a large scale. For more details, web link:https://events.thepolicytimes.com/HealthSE2022/
Policy Times Chamber of Commerce (PTCC) is a not-for-profit, non-Government industry-led body aiming to drive business-and-innovation development. Since 2019, PTCC is actively facilitating policy and business discussions. It provides a platform for local businesses to learn about changing business dynamics, understand government policy, and raise concerns about the industry. The Chamber aims to create and sustain an environment conducive to development by building synergy between stakeholders (industry, policymakers, academia, and international) through the network, advocacy, consultation & training.
The Policy Times (www.thepolicytimes.com) is India's policy, business and development media; and a strategic and practical alliance of policy and business experts for policy and business connect leading to prosperity through news and article writings, practical networking, Events, Business intelligence, research and policy advocacy.