Microsoft unveiled the next generation of Windows nearly 6 years after the launch of Windows 10. Virtual events have become a norm in the post-covid world where companies unveil their future products. This event was live-streamed on the website of Microsoft. Let's see what's new in Windows 11 from its previous generation.
The online launch event of the next-gen of Windows i.e., Windows 11 started with a dramatic turn. The official website of Microsoft was redirecting the audience to social media websites like Facebook and Twitter. Though it was fixed and they issued an apology for the same but tech giants like Microsoft facing such issues is a little embarrassing. As the saying goes, Windows and buggy demos go hand in hand, in 1998 during the live demo of Windows 98, the server had a major crash while Bill gates were displaying it. Earlier, the leaked version of the Windows 11 had also surfaced on the internet.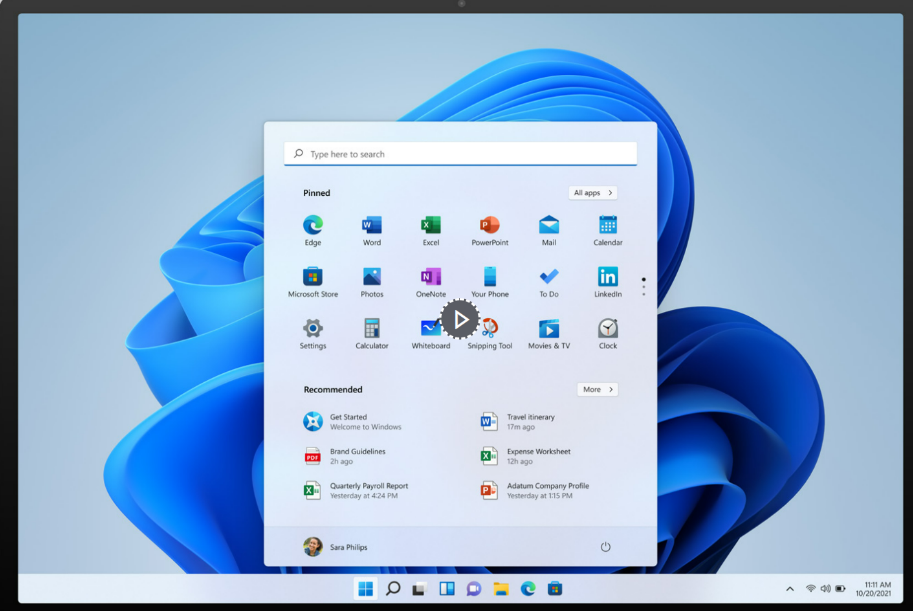 The unveiled OS showed a renewed design and cleaner look, which makes the interface look more like a Mac-OS. It will be available as a free upgrade to all the existing windows users once it's officially launched in the latter part of the fall season this year. The tool through which you can check whether your device is compatible with Windows 11 or not, can be found at the official website of Microsoft or can be downloaded through this link: https://aka.ms/GetPCHealthCheckApp.
The much-hyped virtual event took place on June 24, and the company was represented by the CPO(chief product officer) Panos Panay. The successor to the Windows 10, now will have a Mac-like design that includes a centered taskbar, round corners instead of the typical sharp corners, a new start menu, and lots of themes to choose from.
The major update which Windows brings is the support to natively run Android Apps which was earlier not possible without using emulators like Bluestacks. Microsoft has entered into a partnership with Amazon to help Windows run Android Apps.
Further, to compete with other group video calling apps like Zoom, Meet, etc., MS Teams will be inbuilt and integrated into the taskbar to allow users to call people present on any device including Mac. This has done to counter Apple's Facetime which now comes with a similar feature. Microsoft Edge will be included with more widgets to get better-personalized content for the user.
As Microsoft had decided to compete with the Mac OS's growing influence in the OS market, they(Microsoft) had also decided to give attention to every user's requirements, and the gaming community was given special focus to enhance the gaming experience for them. They claim to provide a whole new gaming experience and few special features found only in the Xbox like the Direct Storage and Auto HDR. They even said that "If you're a gamer, Windows 11 was made for you." The time will only tell whether Windows 11 lives up to the hype around its gaming capabilities or proves to be a failure.
They have also attempted to give the professional community better productivity by giving a Mac-like Snap layout feature that helps you to use and keep an eye on multiple apps for better multitasking. The touch screen optimization is improved to match up the fast-moving tech world. Also, they claim that Windows 11 will have the best security feature as compared to its previous versions.
Virtual desktop support and multiple desktop support have been improved and attempted to give better personalization controls to the users. It has been tried to provide a better transition of content from monitor to laptops and vice versa. This will help the streamers, programmers, gamers, and many more.
It would be interesting to see how much Windows 11 lives up to its hype and performs on our devices. Most importantly, how the Amazon app store works to support Android apps on Windows.
Photo credits: all photos have been taken from www.microsoft.com