Reliance since their launch of Jio, have been known to give surprises to the customers as well as their competitors. Those surprises are usually a gift for customers and a headache for the other companies in the market like the free internet given when Jio was launched. But this time, dashing all hopes, Reliance has decided to postpone the launch of their much-awaited phone to Diwali.
ABOUT JIOPHONE NEXT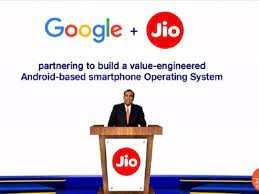 The JioPhone Next is a joint-venture between Mukesh Ambani owned Reliance Industries and Google. This is expected to be an entry level smartphone with market standard features. During the AGM of Reliance Industries this year, Mr. Ambani had announced that the phone will be the cheapest or rather the most affordable smartphone across the globe. Market rumors suggest that the phone's price range is approximately $50 or 3500 rupees. Equipped with Android 11's optimized lighter version and Google assistant, the phone is expected to be having a 5-6 inches touchscreen, language translation and Snapchat like camera features with an Indian touch.
WHY THE DELAY IN LAUNCH?
The phone was expected to hit the Indian markets on the occasion of Ganesh Chaturthi i.e., September 10, 2021. But in a joint statement by Jio and Google said that "Both the companies have begun testing of JioPhone Next with limited users for further refinement and are actively working to make it available more widely in time for the Diwali festive season. This additional time will also help mitigate the current industry-wide, global semiconductor shortages."
The smartphone industry has been badly hit due to semiconductor chip shortages. Many companies are struggling to meet up the demands of their phones. A large portion of the supply chains has been badly hit due to the Corona Pandemic which begun last year.
Until now, the situation hasn't been normalized in the manufacturing industries. Even the automobile industry hasn't been left untouched by this shortage. Companies including Maruti Suzuki, Mahindra have reduced their productions as they are facing chip-shortage.
Also Read| NARCISSISTIC PERSONALITY DISORDER