Angelina Jolie Instagram Debut:
Arguably one of the most famous Hollywood actress Angelina Jolie finally made her Instagram debut on August 21, 2021. The 'Mr. and Mrs. Smith' lead took to Instagram to share a letter of a young Afghan girl's life deeply disturbed by the takeover of their country by the Taliban. The letter further explained the fears and difficulties of women who are being forced to live under the Taliban's rule.
Jolie beats Aniston's record:
The actress gathered 1 million followers in less than 3 hours beating Jennifer Aniston's record of gathering 1 million followers on Instagram in 5 hours. Though, Jolie was far away from breaking the record of NCT's Taeil in gathering 1 million followers on Instagram. Jennifer made her Instagram debut in 2019 by sharing a photo with her fellow artists who had worked with her in the 'Friends' show. Interesting to note that, both Angelina and Jennifer had been married to Brad Pitt. Brad had left Jennifer for Angelina. They both came close while shooting for 'Mr and Mrs. Smith'.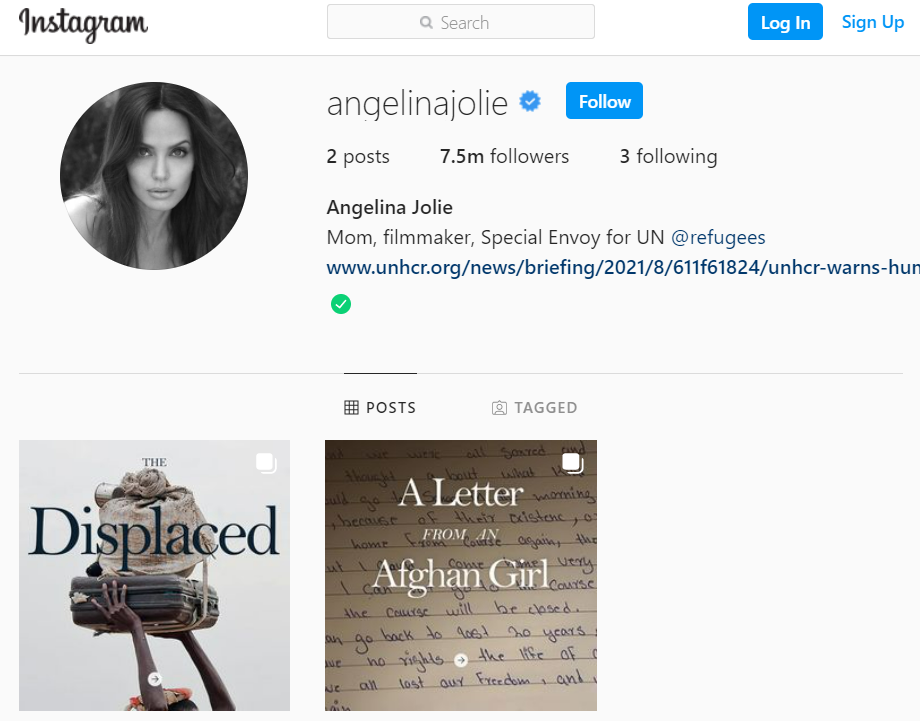 Voicing the Afghan Stories:
As of now at the time of writing the article, Angelina had over 7.5 million followers. The 46-year-old actress in her first post shared wrote that she had joined Instagram to share the stories and voices of those across the globe who are fighting for their basic human rights. She also told that she was on the border of Afghanistan two weeks before 9/11, where she met Afghan refugees fleeing away from the Taliban rule.
Many humanitarian organizations including Amnesty, Refugees had welcomed her for using the platform to give voice to the voiceless. The second post she had shared was also on the people displaced due to various crisis including wars and conflicts. The raising of concerns of the voiceless on social media platforms by famous artists is like a ray of hope. It also assures society that the future is not going to be dark despite huge disparity among us.
Also, Read| Spoiler for the Madan Puraskar Nominated Novel -"Fulangey!"